Description
ON SALE NOW

NEVER SCRUB OR POLISH YOUR WHEELS AGAIN!  
Pitstop


Cruiser MotorSports brings you what we consider to be the best auto, bike and boat products on the market. Try them for yourself – we're sure you'll agree with all our other satisfied customers and we guarantee it. Wheel manufacturers agree and recommend Wheel Shield for long lasting care and protection of wheels.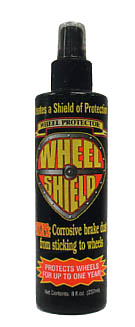 Never scrub or polish your wheels again.
Total protection from brake dust, road tar, rust, corrosion and winter chemicals (mag chloride).
Surface shine always protected.
Repels 60% of all brake dust.
All dust and dirt wipe off with damp cloth.
One application lasts all year.
Wheelshield leaves a long lasting clear non stick coating, that stops brake dust and winter chemicals sticking to your wheels. Wheels are totally protected. All dirt and brake dust wipes away without scrubbing. Use a wet sponge or cloth to clean wheels. Wheels always look great, and never need to be polished. Wheelshield covers and protects surface shine.

Sale Price: $9.95  $$6.00
Wheel Shield Procter