Description
Cruiser A/C Plate – 2 Piece – Stainless Steel

This is a 2 pc interior A/C Control Panel Surround. Made of high-quality 304 #8 stainless steel. The solid piece has a brushed stainless finish.
It is trimmed with a polished stainless surround. Easy installation with attached 3M tape.
This will fit the 01-05 PT Cruiser, including the Convertible. Comes either in polished or brushed face.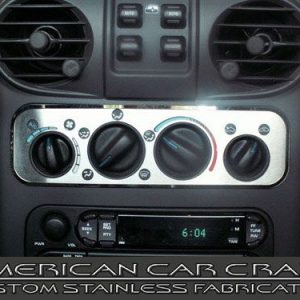 Price: 59.99
A/C Face Plate, Brushed or Polished