Description
PT Cruiser Screamin Demon Performance Coil, 2001-2010


 Buy!
Open up your PT Cruiser's performance potential with a set of Screamin' Demon coils from Performance Distributors! These improved aftermarket coils are designed to produce an exceptional spark throughout the entire rpm range with virtually no drop in power. Stock coils are notorious for falling off as rpm increases. The Screamin' Demon coil has been dyno-tested, providing an additional 3 hp at 5000 rpm than stock coils.
The Screamin' Demon features a brass terminal, which is more conductive and resists corrosion longer than a stock aluminum terminal. The plug gaps can be widened to 0.060″ due to the energy of this coil. The wider spark plug gap will allow more spark energy into the combustion chambers, providing more power and improved mileage.
Produces excellent spark throughout rpm range without power drop
Provides addition 3 hp at 5000 rpm, compared with stock coils
Brass terminal conducts better and resists corrosion longer than stock aluminum terminal
Plug gap can be increased to 0.060″
Replace your stock coils with Screamin' Demon coils and see the life spark into your PT Cruiser!
Note: Because the Screamin' Demon is too "hot" for stock plug wires, high-performance wires are highly recommended. Please see the suggested plug wires recommended.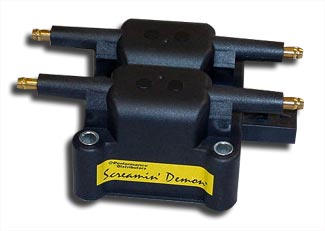 Price:$94.00
Demon Coil, 2001-2010